I blogged back in August about a piece in Variety offering a speculative glimpse into Rovio's plans to expand their staggeringly popular Angry Birds game into a full-blown entertainment franchise.
Now I see on Venturebeat that Fox have teamed up with Rovio to produce a spin-off game promoting forthcoming animated feature Rio, complete with this punchy little YouTube promo:
This feels like a great example of my Content -> Application <- Community paradigm in action. Content-wise you have the overlapping story-universes of Angry Birds and Rio; for Community, the aggregated audiences Fox and Rovio command and, in the latter's case, compel.
Between them, the application. Bear in mind my definition of 'application' goes far wider than just stuff you find in the app store. I use it to describe anything that meaningfully extends the relationship between Content and Community, typically somewhere along the path to monetising it.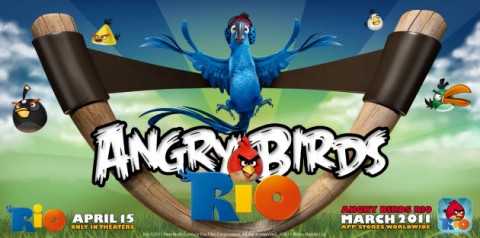 Coming from the creators of box office mammoth Ice Age it seems fair to assume that Fox are hoping for another high-flyer in Rio. Their challenge is how to cut through and drive interest in a new property at a time when the cinema is chock-full of safe bets and established properties. Partnering with this wildly popular and creatively synergistic casual gaming phenomenon is a great way to do just that.
From Rovio's point-of-view this is also a dream team-up. They have grand plans for Angry Birds, but making good quality films and TV shows takes time. An association with Rio – and, more importantly, the multi-million dollar marketing spend Fox will be putting behind the film – positions Angry Birds as precisely the kind of heavyweight entertainment property it may ultimately become.
Last but not least, let's not forget the small matter of Fox and Rovio's respective cuts from sales of the game itself. The original Angry Birds game has been downloaded more than 50 million times on the App Store and Android and their recent Angry Birds Halloween release shifted over one million downloads in less than six days – Angry Birds Rio can confidently expect to have the same kind of opening.
Since the first ringtones and clips unlocked via SMS micro-payments, mobile has led the way in challenging the taboo associated with monetising movie properties ahead of theatrical release. Betweens Fox's incisive commercial instincts and Rovio's mobile gaming expertise this looks like a major milestone in the continuation of that trend and, who knows, maybe the beginning of a beautiful friendship.
« "It's not, strictly speaking… legal." No trailer is an island »