Following on from a visit from Maggie Philbin (yes, she of Tomorrow's World fame, geek royalty in these parts) Glass Eye recently took part in the Stratford leg of TeenTech, a series of "lively one day events to help young teenagers see the wide range of career possibilities in Science, Engineering and Technology".
Taking over the 360° Cinema of Cisco House overlooking the Olympic Park, we spent the day giving groups of students from local schools the opportunity to play with a couple of the web apps we developed to support the release of MISSION: IMPOSSIBLE – GHOST PROTOCOL. It ended up being a real thrill for us to see our work being given a proper run-out, and pretty soon the the abject terror we'd experienced first thing that morning was a distant memory.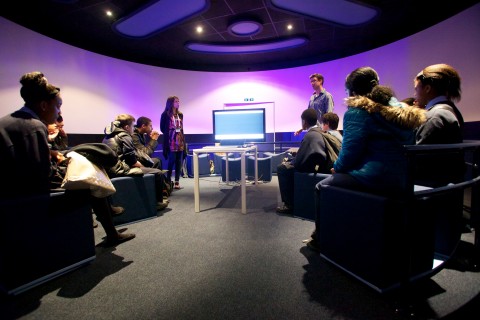 A theme of the day was to challenge stereotypes associated with 'scientists' ("crazy hair", "lab-coats") and 'engineers' ("fix stuff", "mainly engines"). It felt consistent with this to point out that the playful business of movie marketing is increasingly powered by the endeavours of computer scientists and software engineers, whether it be the face-modelling software powering the M:I-GP 'Mask-Maker' or the photo-buffering tech behind 'Deep Zoom'.
Our involvement in TeenTech was the result of a conversation with fellow Hackney resident (and Shoreditch Works co-habitee) James Governor (below) after last year's riots, around opportunities to better connect the 'Silicon Roundabout' start-up scene with some of the boroughs immediately adjacent to it.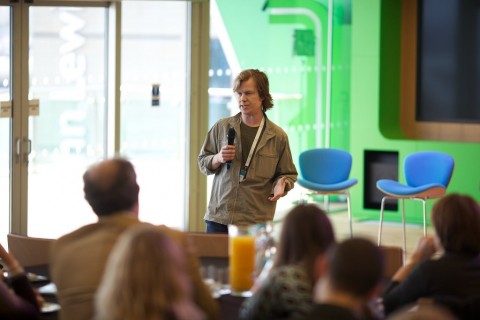 What James and I realised we had in common was that our career paths had pivoted around pieces of technology, things we'd picked up and been unable to put down. The sense I had from TeenTech was that, of the hundreds of teenagers present at that one event, there would be a handful who would experience something similar. For that alone we think what Maggie is achieving with TeenTech is hugely laudable, and something Glass Eye is proud to be a small part of.
Photos © Benjamin Ellis / TeenTech
« The Empire Magazine Film Quiz One link good. Two links better. »