Prepare to meet the worst best men ever.
As Glass Eye enters its third year of business our network of like-minded agencies continues to grow. The latest team-up was with FlashForward Publicity, rolling out an integrated interactive marketing and online publicity campaign for the UK release of BVI title A FEW BEST MEN.
We kicked off with the official site build, developing an HTML5 site accessible from both web browsers and mobile devices. Wanting to put the fun and comedy front and centre, the site invited people to explore content along a narrative trajectory from London to sunny Australia.
Next up came the paid media campaign. In addition to takeovers on Kontraband and College Humor we were excited to hear that an iAd was in the mix, our first foray into this ad format. We worked closely with Apple to develop what essentially is an app within an ad and were delighted to see it outperform targets.
Meanwhile, Alice and FlashForward were busy ramping up publicity, central to which was an awesome Tumblr on which they curated a host of hilarious UGC content relevant to the themes of the film (think cringeworthy stag photos and embarrassing best man speeches!) alongside official assets.
OFFICIAL SITE

APPLE iAd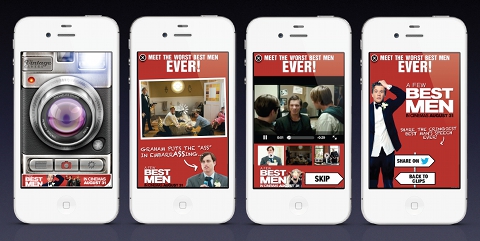 KONTRABAND TAKEOVER
OFFICIAL TUMBLR