We've been thinking for a while that our personalised motion posters would be perfect to promote a major game release and it seems like agency partners Giant Spoon had the same idea – they invited us to provide something suitably gruesome for Mortal Kombat 11: The Reveal, an invitation-only reveal event in Los Angeles on January 18, 2019.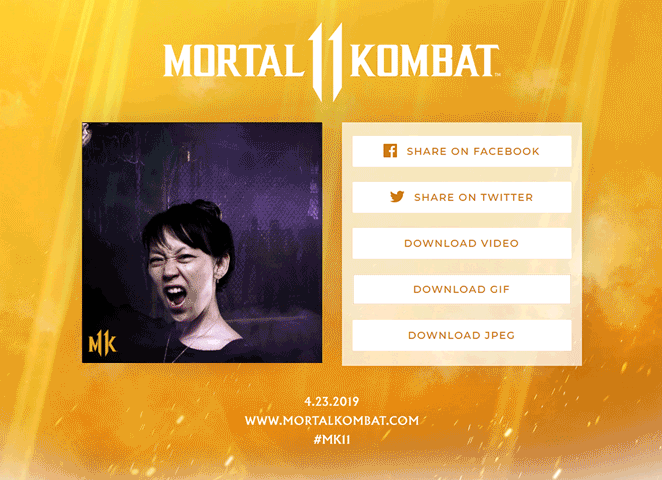 Our 'Fatality' photo op proved a huge hit and has since been rolled out at Super Bowl LIV, IGN and GameStop events and E3 working in close conjunction with the awesome Warner Bros. Interactive Entertainment and NetherRealm Studios. Each activation ran smoothly and dovetailed neatly with the wider event footprint, slick operations oiled with the still-warm blood of freshly mutilated corpses.
Across the campaign 3.5k posters were created for fans and influencers, downloaded and shared over 7k times for an estimated 750k impressions. Here's a dismembered handful of bloody highlights:
Plus here's some of the kind of feedback we never get tired of hearing:
The best photo op at #E3 thank you #MK11 for making our #fatality dreams come true!
Fatality Mk11 booth was so awesome I had no choice to take two because it was that awesome E3 2019.
I can't get over how great these all turned out. By far the coolest booth pics that came out of e3
One of the best parts of #E3? The photo ops! @MortalKombat wins this year. #MK11 #E32019
Coolest photo op! #mortalkombat11 #mortalkombat #e3 #e3expo #e32019 #tobeornottobe #mk11
Some fun from the #E3 floor. MK11 with one of the best photo ops. #finishhim
I waited the whole expo for this #MK11 #mortalkombat #e3
With more than 30k guests now served by our Green Eye platform since our first campaign in 2015, we've kept our focus throughout on delivering richly-personalised artwork and animation true to the creative values of the wider campaign, giving each and every fan a unique opportunity to see themselves inside the worlds their imaginations already inhabit.
Even now a major activation is currently underway at San Diego Comic-Con 2019. Watch this space for more updates as the adventure continues…