Our Screen Award-nominated online marketing campaign for ATOMIC BLONDE is one of the most comprehensive programmes of digital and interactive content we've created for a single theatrical release, comprising localisable microsites, social content and an extensive banner toolkit.
Here's the showreel we put together to spearhead our award submission, followed by a closer look at some of the individual strands:
BOURNE, BOND OR BROUGHTON? Super-spy Quiz
Central to this campaign was the challenge of bringing a female protagonist to a genre traditionally dominated by men. This quiz tackled it head-on, putting Agent Broughton shoulder-to-shoulder with two of the biggest names in the business.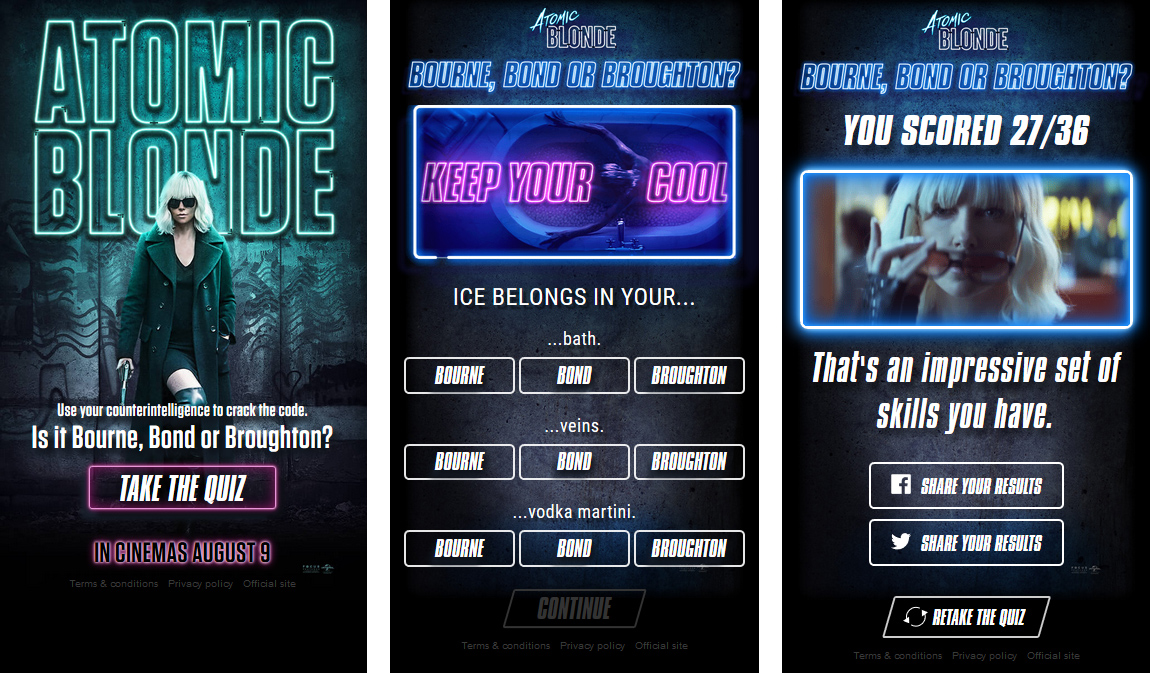 Twelve questions tested fans' knowledge in a playful and engaging way, before serving up their score with a graphical outcome optimised for sharing on Facebook, Twitter and beyond.
ATOMIC YOU! GIF Maker
Our GIF maker gave fans the one-sheet and a selection of other creative to play with from across the wider campaign, featuring the film's distinctive colour grade and personalised neon text.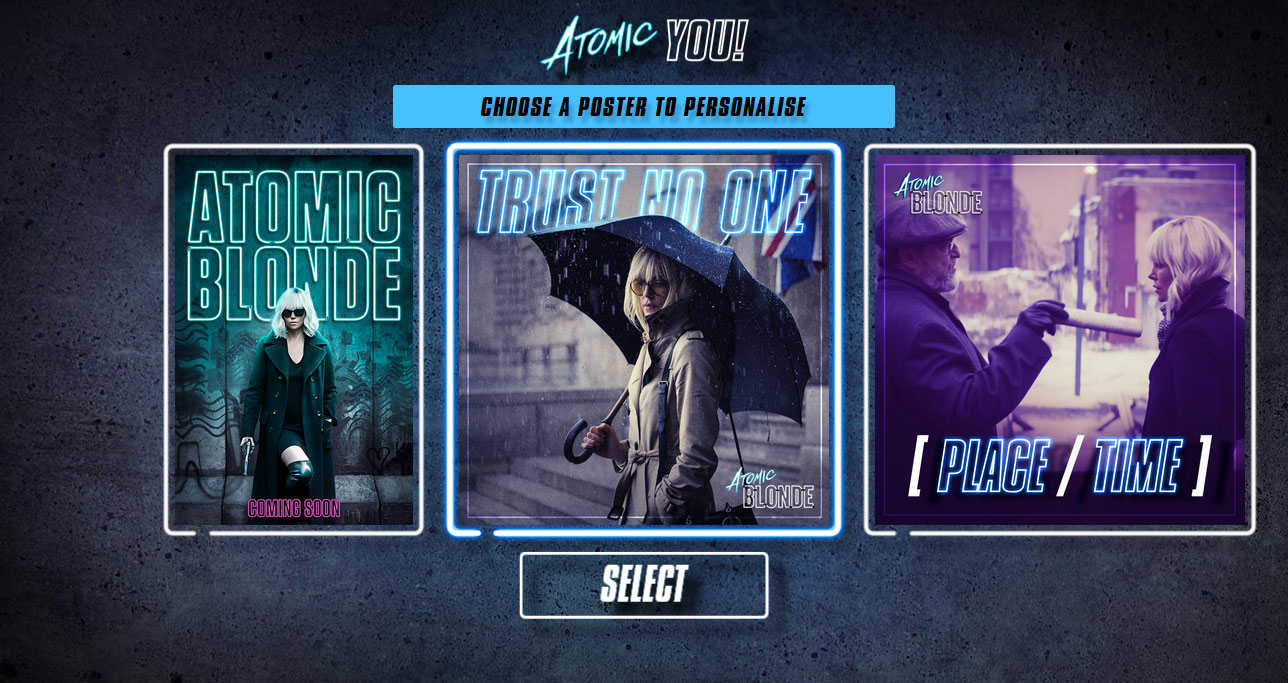 Using a combination of ImageMagick and Amazon Lambda the application was capable of outputting personalised artwork and animation in various formats for a large number of concurrent users without any penalty performance-wise.
WEAPON OF CHOICE Social Spots
Working from the feature these spots were conceived for social from the ground up, using scenes and sequences showing Agent Broughton at her improvisational ass-kicking best.
Creative captioning, audio-visualisation and neon effects highlighting key details all help to deliver explosive spots carrying the promise of style and substance.
Digital Display
Ahead of a round-up of the various other strands of social content we produced here's a look at a couple of the placements we delivered as part of the UK display campaign, working from an international banner toolkit also developed by Glass Eye.
Social Content – Attitude
Central to Agent Broughton's appeal is her uncompromising attitude to, well, everything. She spends pretty much the entire movie taking down walls, putting her fist into a few stereotypes in the process.
Social Content – Formal
For the more formal pieces we doubled down on key strengths of the movie: action, star power, on-screen chemistry, all the time staying true to its polished and distinctive visual style.
Social Content – Fashion
Finally we produced a series of style-focused vertical videos. Action thrillers can be a tough sell to female audiences and this felt worth putting into focus to soften the gender skew.
Rounding things off…
…here's a snazzy overview we created following the nomination of the campaign for a Screen Award. Click to embiggen: